Thought I'd start a thread to cover all the Robodojo 2023/24 season events I go to, starting with round 1 that happened on the 10th June.
For those unfamiliar with Robodojo events, there are 6 beetle/ant events every 2 months during the season (starting in June and ending in April the following year). A robot's performance is based on its best 3 events. One event usually consists of 4 rounds of 1-v-1 fights, and are scored 4 points for a KO, 3 for a judges win and 1 otherwise, with playoffs to resolve ties.
Ant fights: Robodojo 2023/2024 Season Round 1 Antweights - YouTube
Beetle fights: Robodojo 2023/24 Season Round 1 Beetles - YouTube
Usually, I'd enter Déjà Two alongside 3 ants, but with Medway in a few weeks, and being busy for most of the time from now till then, I chose not to enter the beetle as I didn't fancy potentially doing a full rebuild (and making more spare wheels!) in that time. I did still bring it along to do some testing, primarily if I could get a magnet setup working. In the end, I think I am going to ditch the magnets again - while this time the setup allowed me to move around, I felt it compromised the manoeuvrability too much. One day I'll get the hang of magnets!
For the ants, I entered the regulars PLA-ST Is a Perfectly Legitimate Choice of Material and Percussive Maintenance 4, along with the newly rebuilt Runtime Exception. Overall performance was quite good, with PLA getting 3/1 and ending up 4th overall, falling just short of 3rd place in the playoff. Lumberthwack managed to land a lot of hits in the first fight, damaging some of the wheels, but the armour packages saved the important bits. Against the scary one wheeled Weaponised Incompetance, the Ti plough protected me enough to eventually pin and grab it and bring it to the pit.
Runtime went 2/2, but managed to win its playoff ending at 6th. The armour configs worked quite well, the ad-hoc 1.5mm polycarb wedge surviving the first fight against a horizontal called Stolen Concept, though by the end of it a crack had developed down the bend line. I need to find a Ti sheet larger than 100mm x 100mm. Against Lumberthwack, the HDPE hat proved critical, as observing the damage afterwards, there was a pronounced mark just above the switch, so if the HDPE hadn't been there, he would have sniped the switch! Aside from sourcing Ti for proper armour configs, I need to adjust the turning curves, as it felt very twitchy.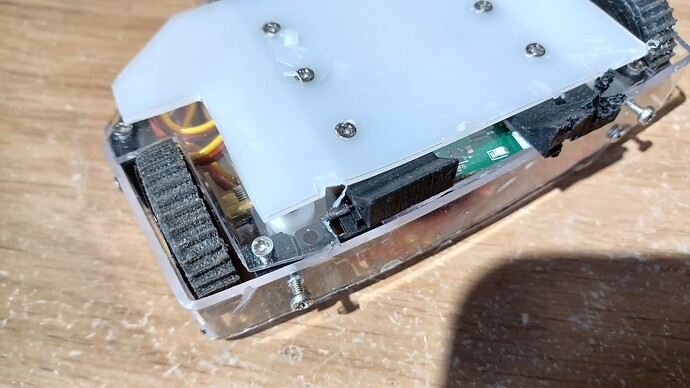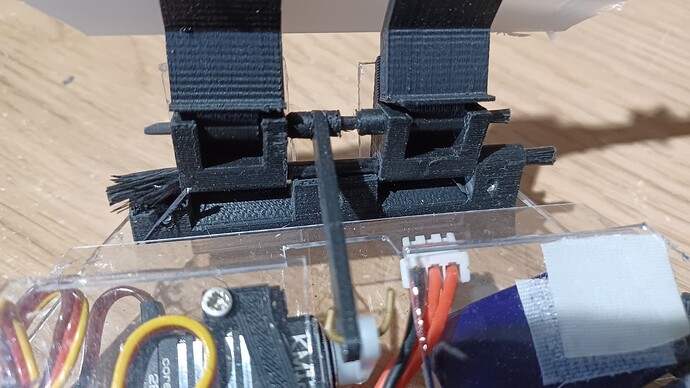 PM4 went 1/3, but I'm not displeased with that, as PM4 is not particularly competitive, and it proved to be the toughest in my team again, managing to tank enough blows from a horizontal for the screws holding the bar to back out in the one fight it won.