I'm currently working on getting CAD sorted for my new beetle ForkHead which is a inspired somewhat by my antweight Big Loader, but with a worse name and less tank tracks.
It's retained the idea of having a lifter with the potential for 360 degree rotation, though I'll planning on adding some kind of feedback mechanism for a more servo like behaviour to make it easier to drive. This one will be less of a bucket and more of a lifter with (hopefully) a secondary arm to keep opponents in place once lifted, suplex style.
The design feels like it's starting to come together just in time for materials to arrive later this week, though I expect to have to make some concessions to reality and common sense along the way.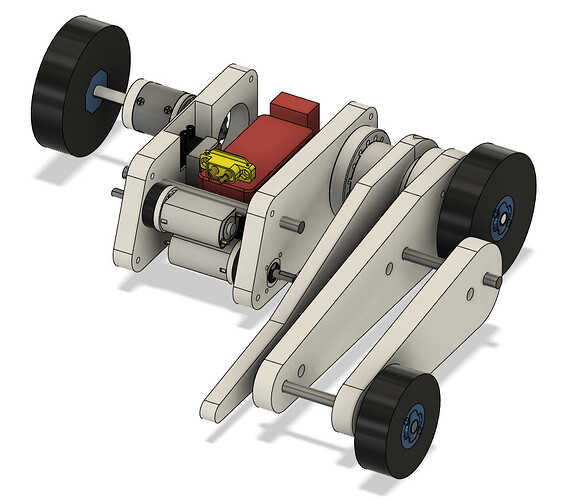 Currently I'm mildly concerned about weight (though the HDPE panels will get some serious pocketing before it's done) and I'm back and forth on whether the focus on the lifter being coaxial with the motors is a great idea or a terrible one. Worst case a base plate can be added to move it towards a more conventional design if it doesn't prove rigid enough.
In the current design the motors live in flanged tubes that will be turned from either aluminium or HDPE bar. These join the inner pod where the electronics live with the drive pods on the outside. The lifter arm(s) currently have free reign of the space in between. The main lifter and a secondary grabber will clamp onto and rotate around these tubes, with some spacers to keep everything aligned. The secondary grabber will likely be connected to the main lifter with a leadscrew and some small motors, enough to allow adjustment to the size of the opponent as opposed to any sort of crushing action.
Also not shown in the CAD are some kind of small forks to get under opponents. Ideally the back of these will sit above the lifter reducing reliance on precisely positioning the lifter and allowing the lifter to get a little mangled and remain effective.
Much of this design is likely to change once materials arrive and I'm forced to recon with the reality of building it.