As I'm currently returning to Luchador for BBB Champs, figured it about time to get a build log posted.

So MK1:
So as some of you know I started building Ants in lockdown, then after my first event The Great British Bodge Off - I was hooked. The next BBB event was beetles so naturally I had to pull together a beetle for it!
I quickly decided to make my life harder than needed by pursuing the noble art of the suplex


And thus Luchador mk1 was born. Inspired largely by the snappy build video it was built largely from 10/6mm HDPE - cut with a jigsaw, heat bent and wood screwed together.

I decided to use 3D printed gears to allow me to iterate a ton and powered the lifter with a 20kgcm continuous rotation servo (largely because I didnt know any better). This proved to be a mistake as the lifter simply lacked the torque to do proper grab and lifts/suplexes

I did manage this little lift on RIP though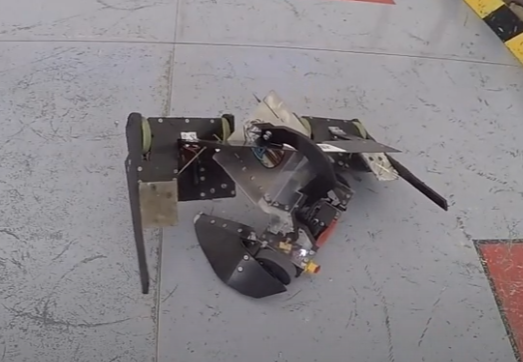 After this lack of lifting beans I switched over to a pololu 37D gear motor - which had ample torque and could lift up to about 4kg reliably! It performed well in this config at robonerd that year and my hopes where high going into Champs.

Then I drew Endboss rnd1 and well… this happened

Amazingly despite getting blown to pieces Luchador never lost mobility during that fight or the rest of that event! - but it did rapidly devolve into some sort of eldritch abomination as I frantically threw it back together after each fight

All said Luchador (or what was left of him) ended up - somehow - making the round of 16! Knocking out Saw Loser in the process - in a fight that ended in a moment entirely created by my excellent driving and design and that had absolutely nothing to do with blind luck at all…
At the end of this event Luchador was incredibly unwell and sadly had to be humanely euthanised and dumped into a box never to be looked at again.