hey peeps! recently i started getting back into building robots, after a few years of not competing at all. first bot i've built is my two-wheeled drive vertical spinner, Somatic Damage.
the mid section of this bot is a little jank with the wiring, with it being a big weak point on the bot, but it hopefully won't end up being too huge of an issue. i really like the shape of this bot, the shape being inspired somewhat by a bot i remember seeing in a video of Ant Freeze 4.
the bot unfortunately weighs in at 151g. Because of this, and the fact that the event that i plan on taking this to isn't until early june, i'm redesigning the bot to save weight and make it more competitively viable.
this is how the redesign looks, i've shortened the pointed sections by 1cm, which should hopefully save some weight, and also cut the wheel guards in half to save around 3g. so plenty enough i hope! i decided to put that saved weight into wedgelets, which should hopefully give me some way of winning the ground game, and also scooping up robots into the weapon. hopefully the weight i've gained from adding these wedgelets, isn't more than the weight i've lost!
one question i would like to ask people,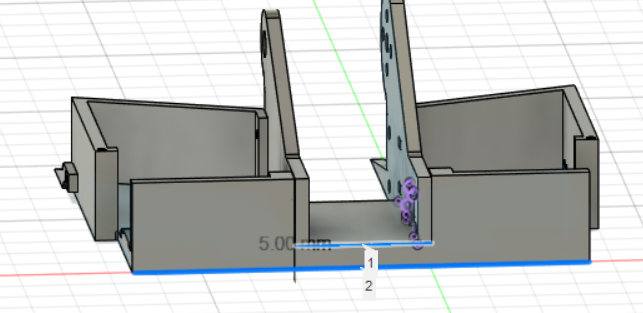 this middle section of the robot here is 5mm thick, i'm just wondering if maybe i'd be able to make this section of the bot thinner, without the robot possibly snapping in half or anything, probably can. rest of the base plate is 2mm thick, so i'm wondering if i'd be a good idea to maybe make the mid section 2 or 3 mm thick to save even more weight. if 5mm is a bit overkill that is…